FIRST WEEK AT DOC
9/30-10/05
The Terence Davies Triology
Monday 7:00PM
(Terence Davies, 1983) · Composed of three semi-autobiographical narrative shorts – Children, Madonna and Child, and Death and Transfiguration – the Trilogy follows Robert Tucker, Davies' alter ego, from his childhood in dismal, post-war Liverpool, through middle age, as he struggles to accept his homosexuality. In the final installment, Davies imagines himself at 80, in a ward, and about to die. Shot in gorgeous black and white, this film invokes the intimacy of a memory.
runtime: 93 min format: 35mm
The Great Gabo
Tuesday 7:00PM
(James Cruze, 1929) · Erich Von Strohiem had just been fired from "Queen Kelly" when he starred in "The Great Gabbo", an "All-Dialog, Singing, Dancing & Dramatic Spectacle" about failure. Gabbo, a self-proclaimed master ventriloquist, is stuck doing third-rate gigs, and blames his girlfriend for it. After finally becoming a big-shot, mean, aloof Gabbo tries to win her back. But, tragically, he can only express what he feels through Otto, his kind, bug-eyed dummy.
runtime: 92 min format: 35mm
Shadows
Wednesday 7:00PM 9:00PM
(John Cassavetes, 1959) · An improvised, jazz-scored film about interracial relations during the Beat Generation in New York City, "Shadows" follows black siblings in Manhattan. One brother falls in with bad company, while the sister, a relatively light-skinned girl who is trying to pass for white, gets involved in an interracial romance that crumbles when the white man meets her family. Cassavetes first feature, "Shadows" marks a watershed moment for independent film.
runtime: 87 min format: 35mm
Summer Hours
Thursday 7:00PM
(Olivier Assayas, 2008) · Three siblings must decide whether or not to sell the ancestral home after their mother's passing. Assayas' camera and narrative are always moving, keeping time with his global characters -- the eldest son in France, the daughter in New York, and the youngest son in China -- as they try to make sense of the changing modern world as it confronts the value of their memories. A film about the past, time and families, "Summer Hours" is a true masterpiece.
runtime: 103 min format: 35mm
Welcome to the Dollhouse
Thursday 9:00PM
(Todd Solondz, 1995) · Welcome to Dawn's dollhouse. Her locker is ridden with graffiti and slurs that allude to a laundry list of nicknames. She hates Disney World, decapitates her sister's Barbie dolls, and is still outfitted by her oblivious mother. Yet in this hilarious, tragic tribute to the marginalized middle-schooler, Dawn finds the will to persevere and love throughout all of the hate and torment she faces. The film is a Winner of the Grand Jury Prize at Sundance 1996.
runtime: 88 min format: 35mm
Se7en
Friday 7:00PM 9:30 PM 12:00 Midnight
Sunday 1:00 PM
(David Fincher, 1995) · In a dark, noir-inflected examination of evil, Brad Pitt and Morgan Freeman play two homicide detectives on the trail of a serial killer who murders his victims in accordance with the seven deadly sins. Employing a bleach bypass technique to achieve its signature dark and gritty atmosphere, Seven marked a high point in '90s American cinema, earning a place on Roger Ebert's "Great Movies" list and helping to turn Fincher into a household name.
runtime: 127 min format: 35mm
The Bling Ring
Saturday 7:00PM
Sunday 3:45 PM
(Sophia Coppola, 2013) · Hollywood insider Coppola brings her satirical touch to the true story of fame-obsessed teens who burgled the very celebrities they idolized—including Paris Hilton, who said she only agreed to cameo because she "loves Sophia." And who can blame her? Coppola took the featherweight story seriously, even prepping her cast by making them fake-rob a house. Emma Watson stands out among the gang, proving she can play vacuous as sharply as she plays genius.
runtime: 90 min format: DCP
Manhattan Murder Mystery
Saturday 7:00PM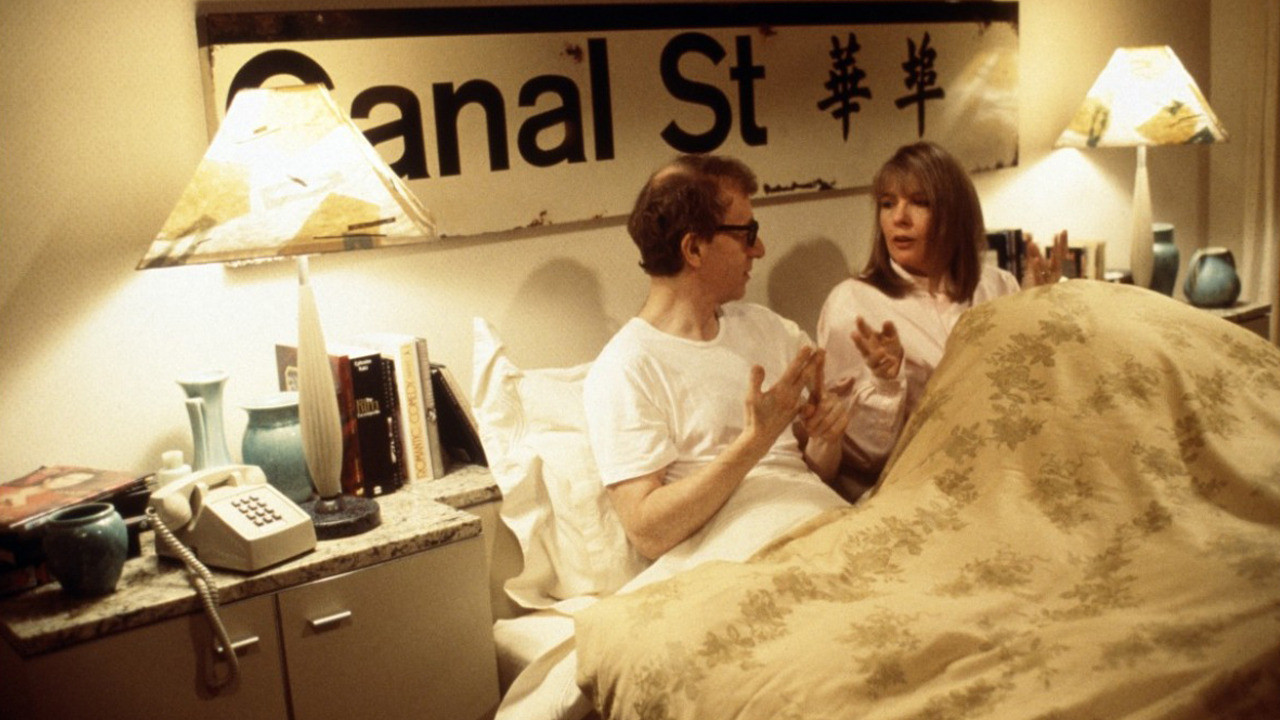 (Woody Allen, 1993) · Believe it or not, the Woodster originally conceived of "Annie Hall" as a mystery movie along the lines of "The Thin Man" (with our heroes stumbling upon a murder after missing that Bergman film), but he ultimately dropped the detective plot in favor of the story we know and love. Years later, he revived the abandoned material in this picture, working together with Diane Keaton for the first time since "Annie", and much of the old spark is still there.
runtime: 104 min format: 35mm